I'm in Minneapolis today at the Minnesota Safety Council's Annual "May Safety Conference". Jim Krueger, Compliance Director at Minnesota OSHA just did a regulatory update presentation, including reviewing the most common/"Top 10″ OSHA citations and violations.
It's always surprising how un-surprising the statistics are. They almost never change.
For general industry employers, the main requirement continues to be Hazard Communication (Haz. Comm., sometimes incorrectly referred to as "hazardous communication"), specifically, failure to have a written hazard communication program, and hazard communication training. Remember, that the Minnesota Employee Right to Know Act (MERTKA) has been replaced with a variation of the Federal Haz. Comm. requirement.
Failure to have a written AWAIR program is also a leading issue.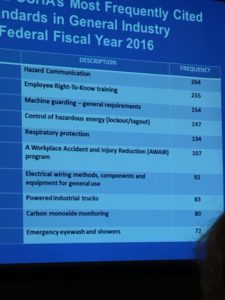 The issue is just as predictable for construction employers. Fall protection is, by far the most prominent concern, but failure to have a written AWAIR program is also a top 5 concern, and Hazard Communication (written programs and training) is also in the top 10.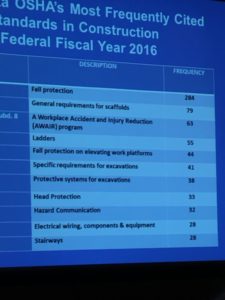 Please contact Paul at Sotera Consulting (612)597-6463 if you need help getting your written programs or training up to speed.